In a survey from Technomic, 82% of restaurant operators said labor costs are growing. There are many factors for the increase, and there's no doubt you've experienced these yourself: hiring, training, retention, scheduling and overtime, healthcare costs and wage mandates. With so much of your budget going toward personnel, it means operating with a leaner staff—doing more with less. That's why it's so important that those employees you do have are trained and groomed into effective team members. That process starts with your leadership team.

The Importance of Grooming a Leader, Rather Than Simply Another Manager

Your assistant general manager (AGM) should be more than simply the second in line. This person should be a strong leader within the organization—someone other employees can look up to, someone who embodies what you need in an ideal associate. When you invest in your AGMs, the results permeate throughout the rest of your team. Plus, investment in your leadership staff will reduce turnover, and increase employee satisfaction as well as sales performance.
 
Todd Edman, CEO of Waitrainer, an online training tool for restaurants, insists training can make or break your restaurant. He says, "If you can create accountability in your restaurant through training, that tremendously changes the culture of the restaurant. Restaurant training is the single most important indicator of restaurant success."

How to Build Strong Leaders Through Your Assistant Managers

These guideposts can be remembered by the three "I"s: Invest, Indoctrinate, and Integrate.

Invest
This criteria can be broken into two segments:
Personal investment ensures owners and managers take a personal, one-on-one interest in the candidate. You could choose their direct manager as a mentor, but you could also consider a formal mentorship program where a leader from a different department personally invests in them.
Professional investment involves setting a clear training plan and communicating it throughout your organization. Along with traditional training, consider opportunities for unconventional training that will help assistant managers understand the organization at a deeper level. Consider field trips to farms where you source ingredients, or set up meetings with suppliers to give AGMs additional perspectives on the foodservice industry. Look for classes to help them specialize in a specific area such as driving more traffic, building a better team or expanding their wine knowledge. Community colleges are a great resource for finding these sorts of courses.


Indoctrinate
There's the dining experience you curate for your guests, but there's an entire culture consumers don't get to see and that's the one made by your staff—and often dictated by managers. Communicating and nurturing that "way of life" is critical to finding and keeping the sort of staff that aides in your success.

Industry-wide, service experts recognize Zingerman's, a deli, mail-order store, bakery and more in Ann Arbor, Michigan, as a leader in culture development. ZingTrain identifies these five steps to building a great culture:
Teach it
Define it
Live it
Measure it
Reward it

Pike's Place Fish Market, also famous for how they have trained their staff, has employees live out their culture with the Four Fish Principles "You have to create your own form of play," states John Christensen, one of the founders of the Fish Principles.
Play – have a little fun at work.
Make their day – engage customers, make them part of the fun.
Be there – be present with your customer.
Choose your attitude – before you go to work in the morning, just like you choose your underwear.

If you haven't already, it's an important (and fun) practice to document what makes your restaurant unique to guests and employees.

Integrate

Help managerial candidates feel like they're part of the decision-making process and the success of the restaurant by bringing them into planning decisions. You can teach them to think like a manager and how to make business choices that drive goals. This move will inspire them to care about more than just their paycheck—and the thinking will filter down to other tiers of employees. Teaching managers to think like owners will help develop the next generation of talent.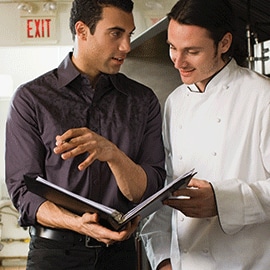 Management Resources
There are so many great resources on leadership and management available. Here are some of our favorites.
Dale Carnegie Training: Leadership Training for Mangers
This one-day course teaches you how to empower your employees to reach their goals through effective coaching techniques, recognizing team success enthusiastically, and delegation.

Creating Magic
This book by Lee Cockerell, who ran Walt Disney World Resort operations for many years, identifies 10 commonsense leadership strategies from a life at Disney.
 
Association for Talent Development
This certificate program provides a model for creating your own leadership development process.
 
New One Minute Manager
This short book by Ken Blanchard and Spencer Johnson identifies three techniques of an effective manager: one-minute goals, one-minute praisings and one-minute reprimands. Each of these takes only a minute, but has lasting benefits.
 
Fish! For Leaders
Seminars, DVDs, and other teach the Fish! Philosophy mentioned above.
 
ZingTrain
Inc. Magazine has named Zingerman's the "smallest cool company in America." ZingTrain is a Zingerman's business that teaches other businesses their approach to customer service, marketing, HR and other topics through live training seminars, webinars and articles.
Steering by Starlight: The Science and Magic of Finding Your Destiny
This book by Martha Beck explains why you should be true to yourself to excel as a leader.