Luis Peña, co-owner and operator of Romesco restaurant in San Diego, prepares pulpo campechano. The grilled octopus is placed on top of cauliflower puree along with potatoes, peppers and other delicious ingredients. 
Baja + Mediterranean = Mexiterranean
0:52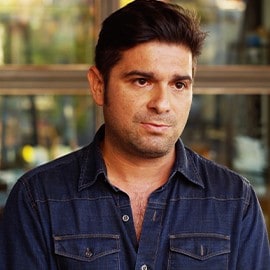 Chef Luis Peña
While working his way through the Culinary Arts and Management Program at San Diego's Mesa College, Chef Luis Peña worked as a call center supervisor. Shortly after graduating from culinary school, Chef Luis quit his job to streamline operations for his father-in-law's restaurant, Romesco. A few years later, he became the co-owner of Romesco, and a new San diego restaurant concept called "Cocina de Raiz".