Physical distance doesn't have to mean that your residents can't see or speak to their families. Video-calling technology is the ideal way for your residents to stay in touch with the ones they love and this can be great for mental wellbeing.
We do understand that the perceived complexities of using phones and tablets can feel daunting so we've put together a beginner's guide to video calling which will walk your staff and your residents through the steps to success using FaceTime and WhatsApp applications.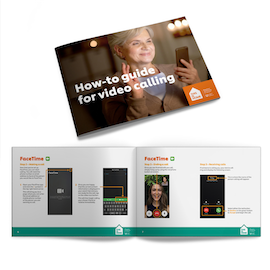 Beginner's Guide to Video Calling
Enabling senior residents to stay digitally connected is an ideal way for them to stay in touch with loved ones. Seeing people's faces, and others seeing theirs, allows them to feel much closer than a simple phone call.
Downlaod Now