When it comes to iconic seafood delicacies, few dishes can rival the experience of biting into a perfectly crafted lobster roll. The combination of succulent lobster meat, buttery toasted buns and a harmonious blend of flavors has made this dish a beloved summer favorite. But as the culinary world continues to trend towards plant-based menus, it was only a matter of time before the traditional lobster roll got an eco-friendly makeover.
This summer, Hellmann's® partnered with The Surf Lodge to create an innovative vegan menu option that offered the same mouth-watering experience as the classic lobster dish. By combining hearts of palm, dill, horseradish and, of course, Hellmann's® Vegan Mayo, The Surf Lodge served up a new dish that met the needs of plant-based customers and had all diners raving.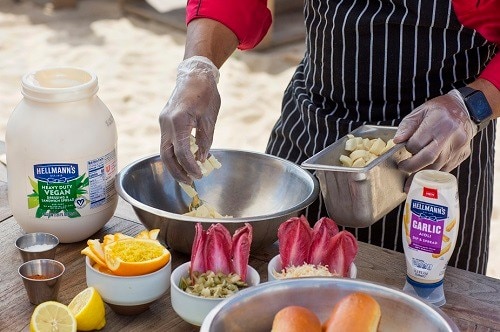 Hellmann's® sat down with Jayma Cardoso, Founder & Creative Director of The Surf Lodge and The Snow Lodge, to learn why Hellmann's® Vegan Mayo was key to the making of their creamy, seasonal Vegan Lobster Roll.
Hellmann's®: What was your inspiration for the Vegan Lobster Roll?

Cardoso: The further you go out east in the Hamptons, the more likely you are to come upon lobster rolls. They are a beloved dish. We wanted a vegan option that tastes amazing and comes with the same buttery roll, crispy fries, and mouthwatering experience, but just happens to be without the lobster. 

Hellmann's®: Why was it important to make a plant-based version of a classic dish?

Cardoso: Plant-based is a movement happening everywhere in the food industry. For us, this was about having an amazing offering for our guests, that happens to be vegan. It was about making it available to as many people as possible while not sacrificing taste!

Hellmann's®: How have your guests responded to the Vegan Lobster Roll?

Cardoso: Guests are absolutely loving The Surf Lodge Vegan Lobster Roll. It has only just launched, and we can already tell we have a hit on our hands!

Hellmann's®: Why is Hellmann's® Vegan Mayo the ideal choice for this dish?

Cardoso: Let's put it this way - even my 8-year-old son gave the dish a thumbs up. The secret? Hellmann's® Vegan Mayo. It is delicious and it takes hearts of palm and horseradish to a whole new level of indulgence. What a game-changer. I also love dipping my fries into Hellmann's® Mayo! 

Hellmann's®: How has Hellmann's® Vegan Mayo helped you to meet guest demand throughout your peak season?

Cardoso: In the hustle of peak season, with countless moving parts (and yes, some sleep deprivation), one thing I don't have to worry about is a consistent, fresh supply of our Vegan Lobster Roll ingredients, all thanks to our reliable partnership with Hellmann's®.