TAZO® Tea Concentrate Skinny Chai Latte 1:1 6 x 32 oz
TAZO® Tea Concentrate Skinny Chai Latte 1:1 6 x 32 oz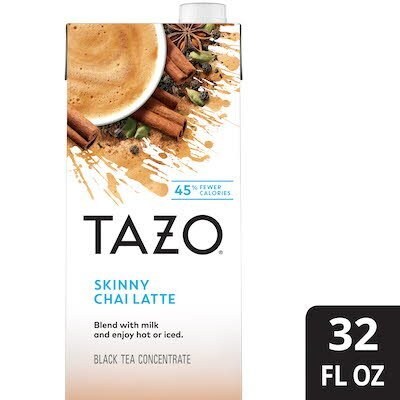 TAZO® Tea Concentrate Skinny Chai Latte 1:1 6 x 32 oz
Tea concentrate made from high quality tea leaves, brewed with bold expertise
Concentrates are easy as 1,2,3 (Shake, Pour, Mix). 1 part concentrate to 1 part dairy milk or plant based mylk – top with any flavors you'd like or serve as is!
Rich blend of black tea, cardamom, cinnamon, ginger, vanilla, and star anise
Easy-to-use tea latte concentrate lets you create hot or iced chai lattes with no brewing
+ More product and allergy information
All product information
Nutrition Details & Allergens
Ingredients
An infusion (of water, black tea, black pepper, ginger, cardamom, cinnamon, cloves, star anise, natural flavors), cane sugar, honey, natural flavors, ginger juice, vanilla extract, citric acid
Product Information
Description
Guests and employees will love this Skinny Chai Latte concentrate. Tazo is all about the unexpected and our blends are no exception. This tea concentrate blend is the chai flavor guests love without all the calorie guilt. Our blend includes a fully oxidized decaffeinated black tea blend that brings out rich, bright flavors; Ginger adds a pop of warmth and exhilarating spice; Cardamom is Intensely aromatic and adds a dash of heat; and Cinnamon adds warmth and spice nestled into a toasty aroma. Easy-to-use concentrates create delicious latte beverages as easy as 1, 2, 3 with a simple shake, pour and blend. Add ice for iced lattes and heat milk for a hot latte variation.
Usage Information
Preparation
Before Opening: Check the "best before" date on top of the carton. Preparation: Shake the carton and mix one part of concentrate with one part water, milk or non-dairy milk. Serve individual beverages hot or over ice. To make, add at a 1:1 concentrate to any kind of milk a guest would like, whether it's dairy, almond, oat, coconut, soy or other non dairy mylks
Storage
After Opening: Store the unused portion of this product in a refrigerator and use within seven days.