Chai Donuts
A light pastry with a decadent filling.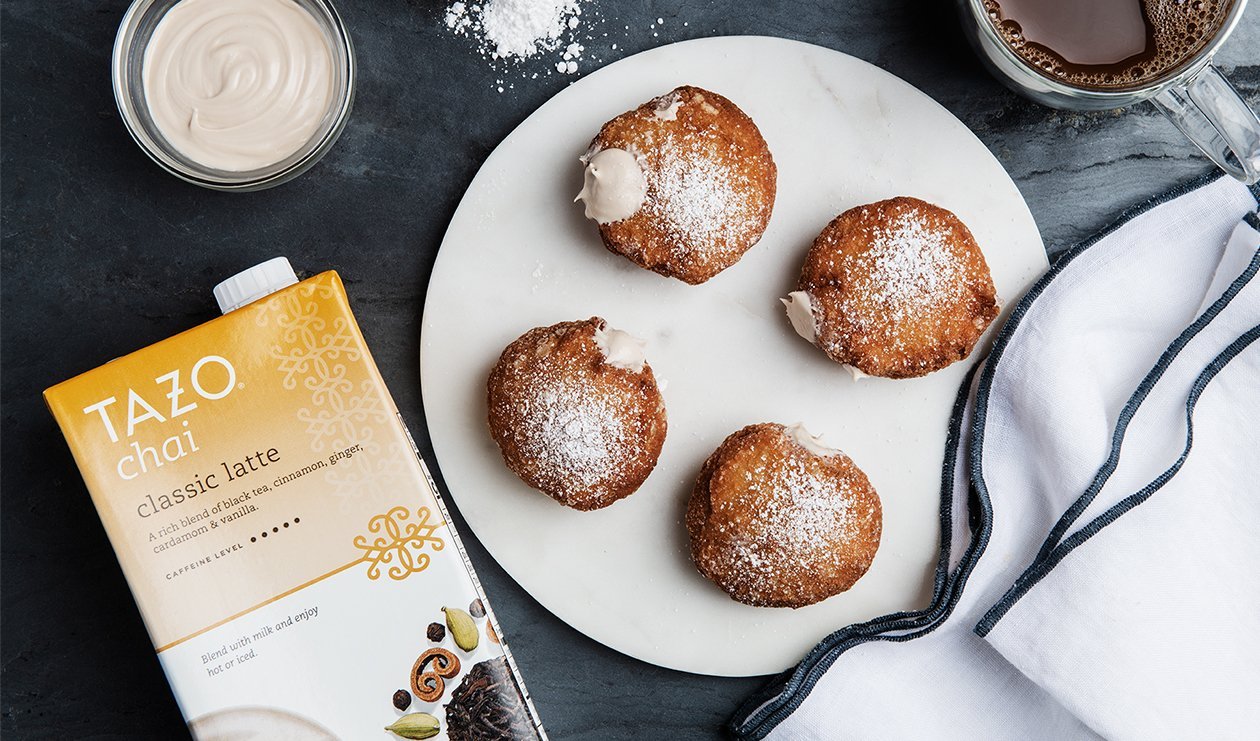 Ingredients per serving
Prepare the Tazo Chai Pastry Cream
Prepare the Dough
Rapid Rise Yeast

1.5 packages

All-purpose flour

3.0 cups

Vanilla Extract, As Needed

Egg Yolks Beaten

2.0 each
Preparation
Prepare the Tazo Chai Pastry Cream

Whisk sugar, yolks, and cornstarch in a medium saucepan until smooth. Add butter, Tazo Tea Concentrate Classic Chai Latte, and milk; bring to a boil. Reduce heat to medium; cook, stirring, until custard is thick, 3 to 5 minutes. Pour through a mesh strainer into a bowl; cover surface with plastic wrap. Chill completely.
Refrigerate until ready to serve.

Prepare the Dough

In a small mixing bowl place the yeast, ¼ c warm water and a pinch of sugar and let stand for 3-5 minutes until foams.
In a big mixing bowl place 2.5 cups of flour, create a hole in the middle of the pile and add the yeast mixture mixing slowly. Add the warm milk, yogurt, Tazo Tea Concentrate Classic Chai Latte, sugar and vanilla extract and mix all well (can be done in a food processor) than add the salt and the lemon zest and mix it in.
Add the yolks and the margarine and the rest of the flour (1/2 cup) as needed so dough would not be too sticky but not too dry as well. Transfer to an oiled, big mixing bowl and let rise for an hour and a half, until doubles in volume.
Punch the dough lightly and transfer to a lightly floured working surface. With a rolling pin roll the dough to be ¼ inch thick and then cut circles using a cup or a cookie cutter. Place the dough circles on a floured tray and let rise again for about 45 minutes in a warm place.

Prepare the Donuts

Dip fry the donuts in vegetable oil heat to 375°F, turning the donuts so they are golden from all sides. Remove to a tray lined with paper towels. Allow to cool.
Make a small hole in donut and pipe in Tazo Chai Pastry Cream and dust with confectioners sugar.