Lipton® BLACK/HERBAL VARIETY PACK - 10041000210928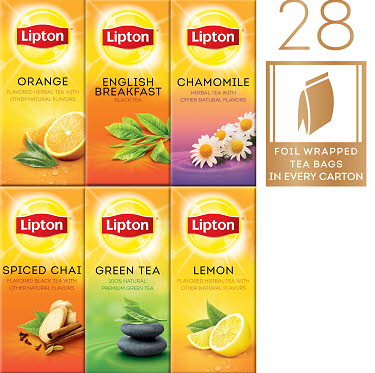 Preparation
Place one tea bag in a cup or a pot. Pour in fresh boiling water. Brew 1 to 6 minutes, based on desired strength. Remove tea bag. Sweeten to taste.
Tips
Remove tea bag and sweeten to taste with honey and sugar.
Benefits
Lipton tea experts select these long leaves to deliver an exceptionally pure tea flavor and aroma. Lipton tea is calorie free (when unsweetened), has no additives or colors, and helps to keep you hydrated.
Description
An assortment of our most popular varieties: Chamomile, English Breakfast, Green, Lemon, Orange, Spiced Chai. Our professional tea tasters ensure perfectly blended teas to meet high quality standards. Brought to you by Lipton, the #1 name in Tea. Packaged in a zero-landfill facility. Bag, tag and carton fully recyclable.