Knorr® Ultimate Ultimate Roasted Chicken Base - 10048001914688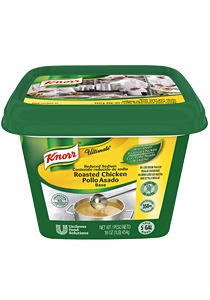 Preparation
CHICKEN BROTH - COMBINE KNORR ULTIMATE ROASTED CHICKEN BASE WITH BOILING WATER FOR A RICH INSTANT CHICKEN BROTH OR STOCK.
Tips
Use wherever a rich hearty stock is required.
Benefits
Knorr Ultimate Refrigerated Bases are chef-inspired premium bases with chef-crafted recipes, high-quality ingredients, and a meat/ingredient first preparation. These products offer delicious taste, unique roasted notes, and consistent performance. Available in low sodium, no trans fat, and low saturated fat varieties.
Description
Knorr Ultimate® Roasted Chicken Base has more real roasted chicken flavor without the excess salt, making a better foundation for well-balanced soups. Create a rich, balanced, flavorful chicken broth or stock in less time.
Download full product specifications