Knorr® Ultimate Beef Gluten Free - 10048001509655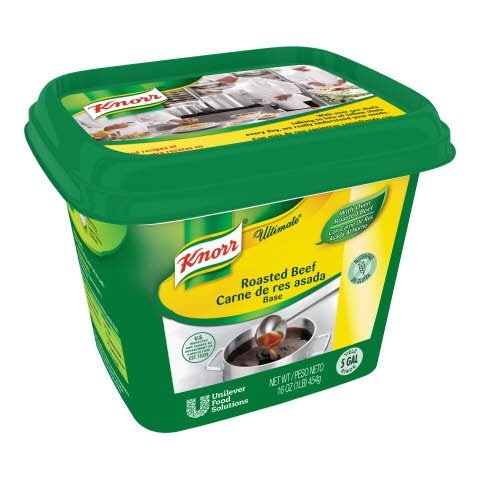 Preparation
Directions: Add base to boiling water and stir well. Base Water 1 tsp 1 cup 4 tsp 1 qt 4 oz 5 qt 16 oz 5 gal
Tips
Use wherever a rich hearty stock is required.
Benefits
Knorr Ultimate Refrigerated Bases are chef-inspired premium bases with chef-crafted recipes, high-quality ingredients, and a meat/ingredient first preparation. These products offer delicious taste, unique roasted notes, and consistent performance. Available in gluten free, low sodium, reduced sodium, no trans fat, and low saturated fat varieties.
Description
Hearty real beef flavor comes from the roasted beef, with background notes of roasted carrot, with celery and onion. Now gluten free.


Nutrition Information

Portion size =

| Nutrients per serving | Per 100 g as sold | Per 100 ml as sold |
| --- | --- | --- |
| Calories kJ | - kJ | - kJ |
| Calories kcal | - kcal | - kcal |
| Calories from Fat | - kcal | - kcal |
| Total Fat | - g | - g |
| Saturated Fat | - g | - g |
| Trans Fat | - g | - g |
| Polyunsaturated Fat | - g | - g |
| Monounsaturated Fat | - g | - g |
| Cholesterol | - mg | - mg |
| Sodium | - mg | - mg |
| Total Carbohydrate | - g | - g |
| Dietary Fiber | - g | - g |
| Sugars | - g | - g |
| Protein | - g | - g |
| Potassium | - mg | - mg |
| Vitamin A | - IU | - IU |
| Vitamin C | - mg | - mg |
| Calcium | - mg | - mg |
| Iron | - mg | - mg |
| Vitamin D | - IU | - IU |
| Vitamin E | - mg | - mg |
| Vitamin K | - mcg | - mcg |
| Vitamin B6 | - mg | - mg |
| Vitamin B12 | - mcg | - mcg |
| Caffeine | - mg | - mg |
| Omega 3 fatty acids | - mg | - mg |
| Antioxidants | - mg | - mg |
| Alanine | - g | - g |
| Fructose | - g | - g |

*% of Reference Intake of an average adult ({0}) 8400kj/2000kcal