Knorr® Select Select Vegetable Base (No MSGAdded) - 10048001375700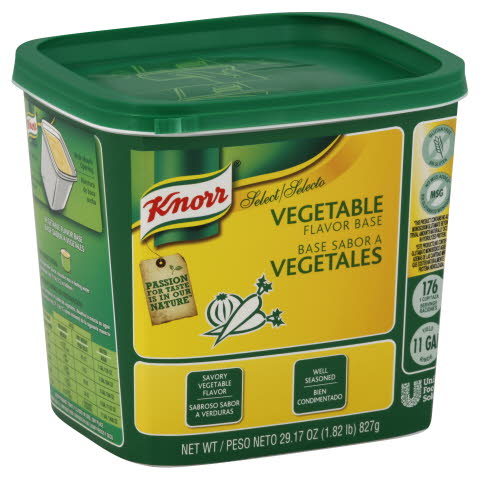 Preparation
For Vegetable Stock, dissolve mix in boiling water (minimum 185 °F/85 °C) as follows: STOCK YIELD- BASE [MEASURED | DRY WEIGHT], WATER: 1 GAL- [1/3 CUP | 2 2/3 OZ], 1 GAL: 3 GAL- [1 CUP | 8 OZ], 3 GAL: 6 GAL- [2 CUPS | 16 OZ], 6 GAL: 9 GAL- [3 CUPS | 24 OZ], 9 GAL: 11 GAL- [3 2/3 CUPS | 1 CONTAINER], 11 GAL
Tips
Use wherever a rich hearty stock is required.
Benefits
Knorr shelf-stable bases offer high quality at a great value, with no added MSG varieties, hearty flavors, great flexibility and versatility, no trans fat varieties, and gluten-free varieties.
Description
For vegetarian dishes or just about any dish that needs a lift. Made from a variety of roasted vegetables, precisely seasoned for maximum flavor.