Hellmann's® Real Mayonnaise-Squeeze Bottles - 10048001370491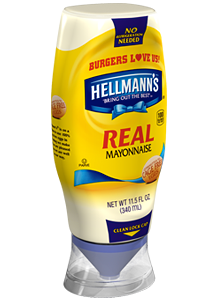 Preparation
Ready to use.
Packaging
12 X 11.5 fl oz
Tips
Great for sandwich fillings, deli dip, and making compound salads (potato, macaroni, etc.).
Benefits
The highly desirable balance of acidic and sweet flavor notes enhances your menu items in a way that is unmatched by other brands. Maintains cling, consistency and stability-even when heated. Superior emulsion resists breaking down; your recipes retain outstanding texture, mouth feel, flavor and eye appeal. Outstanding performance reduces waste and lowers cost. The new bottle is easier to hold and use. The new directive nozzle makes it easier to put mayonnaise right where you want it, and the clean cap keeps the product looking great on your tables.
Description
Guests want to top their sandwiches and burgers with the best mayo, and they expect Hellmann's® within reach. Hellmann's® Squeeze Mayonnaise on your table puts their favorite mayo at their fingertips. • No refrigeration needed • New bottle shape for improved use • Clean-lock cap means less mess • Sizes: 11.5 oz. and 20 oz.
Download full product specifications