Hellmann's® Original Buttermilk House DryMix, pouches - 10021500801734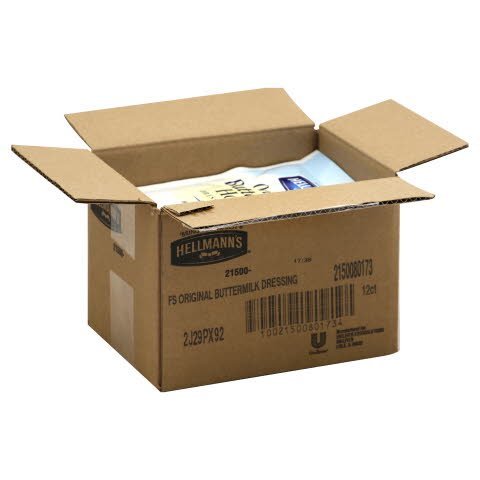 Preparation
DIRECTIONS: 1. Add 1 package MIX to 2 quarts BUTTERMILK. 2. Blend thoroughly using a wire whip. 3. Add 2 quarts HELLMANN'S® REAL MAYONNAISE. 4. Blend well. 5. Refrigerate. Stir well before using. YIELD: 1 gallon. REDUCED-CALORIE DIRECTIONS: 1. Add 1 package mix to 2 quarts buttermilk. 2. Blend thoroughly using a wire whip. 3. Add 1 quart SOUR CREAM and 1 quart HELLMANN'S® LOW FAT MAYONNAISE DRESSING. 4. Blend well. 5. Refrigerate. Stir well before using. Approximately 30 calories per 1 fl. oz. serving (2 tbsp.) Yield: 1 gallon. ALTERNATE DIRECTIONS: 1. Add 1 package MIX to 11/2 quarts whole MILK. 2. Blend thoroughly using a wire whip. 3. Add 2 quarts HELLMANN'S® REAL MAYONNAISE and 1/2 quart SOUR CREAM. 4. Blend well. 5. Refrigerate. Stir well before using. YIELD: 1 gallon
Yield
1536 ave. servings per case
Tips
For an alternative, serve with fresh veggies or wings.
Benefits
Hellmann's® Dry Dressing Mixes are a cost-effective way to add consistently fresh flavor to a wide variety of menu items, including salads, dips and marinades. These mixes can also help expand operator menus and provide an easy way to customize signature 'house' specialties and reduced-calorie dressings.
Allergen Information
Sulphites
Ingredients
SALT, MONOSODIUM GLUTAMATE, ONION POWDER (SULFITES), GARLIC POWDER, XANTHAN GUM, SPICES, HIGH OLEIC SUNFLOWER OIL.
Description
A delicious and handy Buttermilk Ranch dry mix dressing that also doubles for use as a dip.


Nutrition Information

Portion size = 0.7g

| Nutrients per serving | Per 100 g as sold | Per 100 ml as sold |
| --- | --- | --- |
| Calories kJ | 0.0 kJ | - kJ |
| Calories from Fat | 0.0 kcal | - kcal |
| Total Fat | 0.0 g | - g |
| Saturated Fat | 0.0 g | - g |
| Trans Fat | 0.0 g | - g |
| Polyunsaturated Fat | - g | - g |
| Monounsaturated Fat | - g | - g |
| Cholesterol | 0.0 mg | - mg |
| Sodium | 140.0 mg | - mg |
| Total Carbohydrate | 0.0 g | - g |
| Dietary Fiber | 0.0 g | - g |
| Sugars | 0.0 g | - g |
| Protein | 0.0 g | - g |

*% of Reference Intake of an average adult ({0}) 8400kj/2000kcal