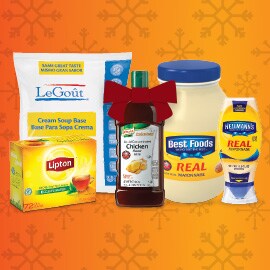 'Tis the season to save on great flavor!
Our chefs have crafted some of the hardest working products for your pantry, and this holiday season we're giving them away. Get free cases of everything you need to make your holiday dishes great from Hellmann's®, Best Foods®, Lipton®, Knorr® and LeGoût®.
When you buy 2 cases of the same product from Nov 1-Dec 31, 2016, you get another case of the same product for free. Good up to 5 free cases!

Example: Purchase 10 cases of Hellmann's® Real and receive 5 cases of Hellmann's® Real.
Click the button to download the offer and then either mail it in or redeem online by submitting your invoice information in the form below.

Hurry to save—the promotion ends at the end of the year!
*Of the same qualifying product
Download Offer